Images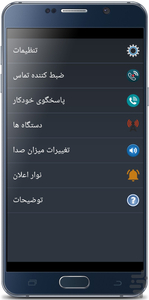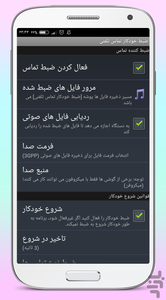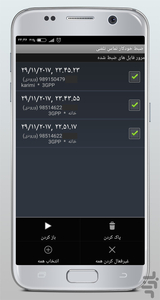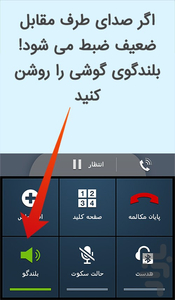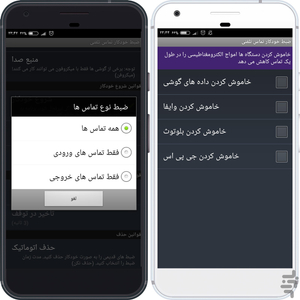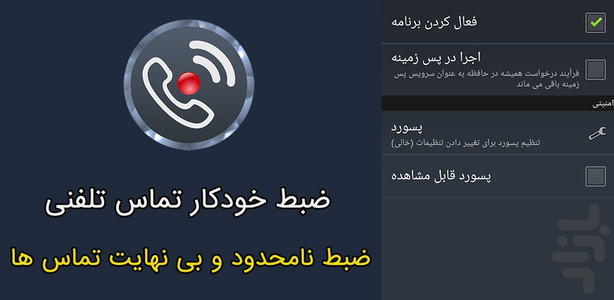 ★ With Auto Call Recorder you can record unlimited, two-way, and secretly phone conversations!

Some features of the app:

✔ Program execution in memory as background service

✔Filtering the recording of incoming and outgoing calls

✔ Activate the answering machine's answering machine

✔ Automatically save contacts based on the contact's name, date and time of recording

✔Ability to lock the app to prevent others from accessing.

✔ Possibility to turn off Wi-Fi, phone data, Bluetooth and GPS during a phone call.

✔ Ability to choose audio format

✔ Possibility to change the sound source

✔ Possibility to delay recording conversations

✔Tapping automatic recording of conversations

✔ Ability to adjust the volume during a call

✔ View and play recorded files from within the app

✔ Can delete old recorded contacts

✔ Completely Persian and Persian for you dear users.

Some Frequently Asked Questions:

1 Why is the voice of the opposite side in my handset poorly captured ???

✔ First, try a variety of recording formats (3gpp-Mpeg4-Amr) and a variety of sound sources to find the best one for your phone.

✔ Turn on the speakerphone while the conversation is being recorded if poorly recorded voice is heard.

✔ You can go into the phone's settings and activate the speakerphone automatically when recording.

✔Save: To listen to recorded files with the maximum possible sound:

With the mx player software in the SW mode, listen to the sound of the file with 2 times the current sound.

✔ It is also recommended to listen to recorded sounds with handsfree.

------------------------------

2 Why does not this app record any contact at all?

✔ Generally speaking, do not use two or more simultaneous recording programs on your phone! This does not interfere with the program.

✔ If this application does not run during a call, first turn it off and on again.

✔ One of your phone apps may not allow any auto-opening program!

✔ To fix this problem, first identify the program. It may be cleanmaster, security programs and ... then go to the following:

Enable the <Auto Setup> Permissions

✔If you fail to do so, open the program and do not complete it, then record the call.

✔ Note that in some countries phone call recording is illegal and hardware restrictions apply on some handsets.

✔ Some phones do not support this type of program properly due to the chipset / CPU, Android version, security issues, brand and model.